Adventure Games
Point and click adventure games are not everyone's cup of tea. However they provide a tremendously diverse platform where literally 'anything goes'. In a world overrun with budget breaking epics it's good to know that there are still games being written for those of us that like a more mentally challenging, and stimulating, experience from time to time.
I wrote my first adventure games back in the late 80's on a seriously overworked ZX Spectrum. Though I'm now a professional game programmer I still like the challenge of writing adventure games as a way to let my imagination loose and to practice drawing, composing and story writing.
These games take a lot of time and energy to write. If you can afford to make a donation as a sign of your appreciation and support then please do so. It will be gratefully received and encourage the making of more advanced adventures in the future.
Please send any comments or suggestions about the games to
Should you get completely stuck, try searching the AGS Hints and Tips forum.
All games are made using the Adventure Game Studio by Chris Jones.
You may copy and distribute these games as you wish, provided no alterations are made to any of the files, and that you do so on a strictly non-profit making basis.
Bog's Adventures in the Underworld - Full Length - Hard - Fantasy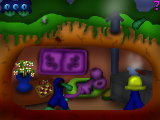 Clod, Bog's wife, inadvertently wishes Bog would go to hell, during a failed Valentine's Day meal. Bog has to use every ounce of ingenuity to find a way out of the phantasmagorical underworld.
Download Bog's Adventures in the Underworld (42Mb)
Bog's Adventure in Easy3D - Short Game - Easy - Tech Demo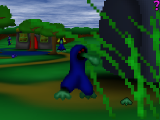 This is just a short (7 rooms) game to test out (okay, I admit it, show off!) my Easy3D module, inspired by the fabled WMGS engine. All the rooms in the game are built in AGS as normal playable 2D rooms, with objects, characters, hotspots, walkable areas, and regions as normal. Then by initiating the module, with just one function call, the display switches to 3D and the same room can be played in 3D. The module also provides 3D parallax areas that can be added to standard 2D rooms. Anyway check it out. It is very processor intensive so at least a 2Ghz computer is recommended.
Download BogEasy3D (7Mb)
Zugzwang - Full Length - Educational - Learn How to Play Chess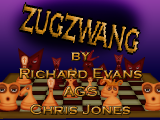 Ever thought learning how to play chess was a bit of an adventure? Well now it really is. Zugzwang gradually leads the player through the basic movements of all the pieces, how to setup the board, capturing, castling, check, checkmate and stalemate, the weird nature of pawns and even the obscure en passant rule. At the same time you get to help two little Pawns, one White and one Black, to reach their ultimate ambitions. To play in a real Battle. Meet and talk to all the Pieces, both Black and White, and solve numerous chess-based puzzles along the way. Some serious but most just silly.
Download Zugzwang (5Mb)
Crave - Full Length - Difficult - Adult Content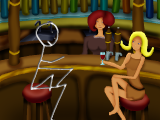 Cacoe is a chalk figure. When reading about the death of a hotel owner in a newspaper, a forgotten memory is triggered by the name 'Fenelda'. Cacoe travels to the hotel and discovers more about himself than he could ever imagine.
Warning: This game does contains adult themes and nudity, and is therefore not suitable for under 16 year olds.
Download Crave (24Mb)

Magsic - Medium Length - Difficult - No Text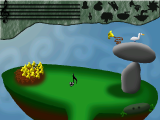 Quaver ventures deep into the surreal unconsciousness of van Gogh's discarded ear. In a land where there is no speech, musical themes are the key to solving the numerous puzzles and possibly finding true love.
Download Magsic (9Mb)

Magsic II - Medium Length - Difficult - No Text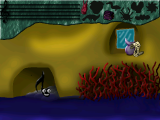 Quaver and Ear get separated during a fierce storm at sea. Help quaver to solve more devious puzzles on a desert island inhabited by many intriguing creatures.
Download Magsic II (9Mb)

Where's M' Hat Ma - Full Length - Difficult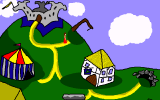 Pa wants his hat and Ma has to get it. An unassuming premise to a grand adventure that will take Ma off to a purple planet, back in time to 15th century England, and save the world from an invasion of 4-eyed cowboy hats.
Download Where's M' Hat Ma (4Mb)

Slug Princess - Medium Length - Hard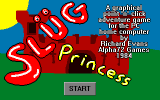 This is the sub-adventure from Crave, re-released as a separate game. A young girl, about to wed her love, the Prince, gets transmogrified into a slug by an evil Witch who claims the Prince is destined to marry her.
Download Slug Princess (1Mb)

Bunny Quest - Joke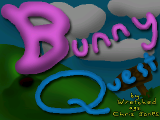 A very small game written in just 3 hours, especially for Halloween. Try and get a carrot to take home for your little bunnies, who have prepared a treat? for you.
Download Bunny Quest (800Kb)
All games content copyright © Alpha72 Games