Chromadrome 2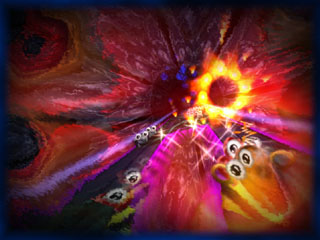 Smooth Fast 3D track action
Incredible Visuals Effects (Motion blur, Wide Screen, Fish Eye lens and more)
6 Modes of Play
Includes Special 3D Landscape racing game
and 2 Player Games (Vista and XP)
Over 100 Arcade Levels
40+ Game Features
Plus 40 Bonus Customization Features
Plus 6 Full Screen Filter Effects & 6 Effect Modifiers
Download
Download the free demo by clicking the link below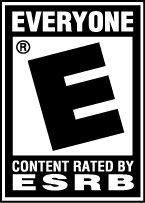 Screen Shots
Description
The Chromates are happy-go-lucky, quantum particles that just love playing games. They want to share their games with everyone and have placed Chromadrome 2 on the internet so that anyone can play it. Chromadrome is one of their favourite games as it is very like how their everyday (in fact every nanosecond) lives are.
Each level is a long, straight track, and all you have to do is reach the finish line without falling. There are numerous obstacles like holes, ramps, other Chromates, crazy winding paths, fires, walls etc. that make it increasingly challenging. Each track is built from a list of pre-designed segments which, over time, can be learnt and mastered. You can set the speed for each level so you will never be out of your depth.
Chromadrome has 6 modes of play:
Arcade - 108 levels where you will be introduced to 40+ game features.
Time Trial - Learn all the tricks to get along these tracks in the quickest possible time.
Warp - An extremely long, slowly accelerating track that orbits the earth eventually attaining Warp velocity.
Academy - Practice some of the trickier segments and earn degree Medals.
Chromacing - A full racing game across massive undulating 3D landscapes.
Two Player - Split screen action where you can challenge a friend to see who is the best Chromadromer. (Vista and XP only with a second USB mouse attached)
As you progress through Chromadrome you will be awarded Medals which allow you to access some of the 40 Bonus Features. Bonus Features allow you to customize the look, feel and sound of Chromadrome in a variety of ways.
Chromadrome has been designed to be played along to your favourite music. In Options you can select your own music be it mp3, wma or CD files and the background visualizations will respond accordingly.
Scoring points in the Arcade will also unlock some phenomenal full screen glass lens filter effects, including motion blur, fish eye, and mosaic. Each with adjustable settings to create some memorizing visuals.
All high scores are recorded with full Action Replay, so you can watch yourself in action over and over again. You can also Replay the last level you played to gloat at your brilliance, or see where you went wrong!
Minimum System Requirements
Windows 98,2000,ME,XP,NT
32Mb 3D Graphics Card
DirectX 8
1.0Ghz, 128Mb Memory