Chromentum 2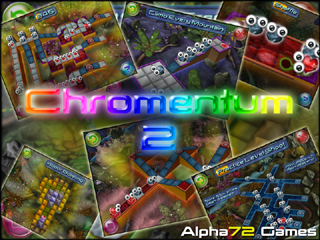 Simple Physics Based Puzzle Game
Over 700 Handcrafted Levels
Solutions To Every Level
16 Different Chromates With Unique Abilities
120 Single Action Bonus Levels
72 Story Cut Scenes
5 Music Tracks
Full Level Editor

Download
Now!
Screen Shots
Description
The Chromates are back with one massive puzzler. Use the Mouse
to Move and Shoot your Chromates around the levels to get
all the Chromates onto the correct circles.
It's not all hard puzzling as there are 120 Bonus levels which can be completed with just one action, plus plenty of easy levels to build up your star points which can be used to purchase solutions to any level you might get stuck on.
Meanwhile watch the story unfold as Goldy and Sweety set out on an epic adventure to restore the scenery to paradise.
You can also create your own level sets, and publish them, using the fully functional level editor
Chromentum 2 has lots of new Chromates ready to add a twist into the mechanics.
Bouncy Chromates - You rebound off these as fast as you strike them.
Match Chromates - Disappear when arranged into groups of 3 or more.
Purple Chromates - Transfer momentum in all four directions.
Jumping Chromates - These can leap over gaps or other Chromates.
Snake Chromates - Link together to form long chains.
Mine Chromates - Explode when hit hard generating smaller Minettes in all directions.
Fungates - Change colour when they collide.
Magnates - Can attract other Chromates towards them.
Family Chromates - Meld together to make massive Chromates.
Starry Chromates - Like to make patterns rather than sit on circles.
Stone Chromates - Explode when hit causing long chain reactions.
Ghost Chromates - Are easily scared and will hop away from other Chromates that get too near.
Energy Chromates - Dissipate on contact giving you more momentum.
Flobs - Duplicate themselves when traversing a floor tile.
Minimum System Requirements
Windows 98,2000,ME,XP,NT,Vista
32Mb 3D Graphics Card
DirectX 8
466Mhz, 128Mb Memory